CultivateTM a Sustainable Mindset and Lifestyle with Kate Gaertner & Co.
Join us on a sustainability journey that will transform your life!
Inspire friends and family with your fresh, innovative approach to living lightly on a cooler planet. This course helps you make sense of what sustainability is, why it's important, how to personalize it so it feels good and joyous for you and your family. We will walk you down the path of our collective future providing a vision of what our transportation, food, water, land, waste systems and more will look like in the not-too-distant future. This is not a course that provides "just tips" on how to live more sustainably. Your learning in this course will go beyond a basic understanding of sustainability to cover topics in depth and comprehensively, linking personal sustainability to climate change, social and environmental justice, human rights, and public health. Think of the CultivateTM course as a 'mini-Masters' in personal sustainability! CultivateTM offers a mix of educational materials, interactive activities, intimate conversations with a host of sustainability experts, and a community of sustainability "cultivators" alongside Kate Gaertner and her team. The course takes the complex and makes it comprehensible, fun and doable. You will feel guided, supported, and motivated to develop your own personal path to living sustainably while planting seeds of encouragement in others. This course will spark your own unique interests and give you a strong base of knowledge to begin and grow your personal sustainability journey!
"As someone who has always been passionate about 'saving the environment', I wanted to become more knowledgeable about the issues at hand and learn concrete ways to be more sustainable. This course did exactly that, and helped me start making changes from Day 1." 
— Melissa Cano
"The course covers all categories of sustainability that all people experience whether they are aware of it or not. Each segment covers in-depth how each topic contributed to climate change as well as actions that could be taken. The actions are broken down into multiple levels depending on your ability to make change. Even if you only make a small change in each area or one area, it can be dramatic change for the climate. This course was built for folks that are anywhere in their journey to be more sustainable and save this beautiful planet we live on. Well done to Kate and the team! I would recommend this course to any and all."
— Cathy King
What you'll get from the course
At the end of the Cultivate
TM
course, you will have built your own sustainability plan that details your specific commitments and areas of focus. You will feel motivated and inspired to follow your plan through meaningful actions in the company of a like-minded community. You will also receive a Certificate of Completion—and the confidence knowing that you just completed a comprehensive mini-Masters in personal sustainability. You will receive all of the following resources to support your journey:
Access to 11 content modules dedicated to a specific sustainability topic each week
Insider tips and perspectives from interviews with 10 subject-matter sustainability experts
Lifetime member access to a private, moderated community for staying inspired and committed
Interactive games, quizzes and sorting activities to test and refine your knowledge realms
An ebook copy of Kate's award-winning Planting a Seed, 3 simple steps to sustainable living book
Complimentary access to Kate's database of 200+ sustainability tips that can be sorted, saved and used to create eco-challenges for yourself
A library of sustainability resources, tools, and checklists created by Kate Gaertner for building momentum and taking action
A personalized Certificate of course completion to validate your increased awareness and knowledge of sustainability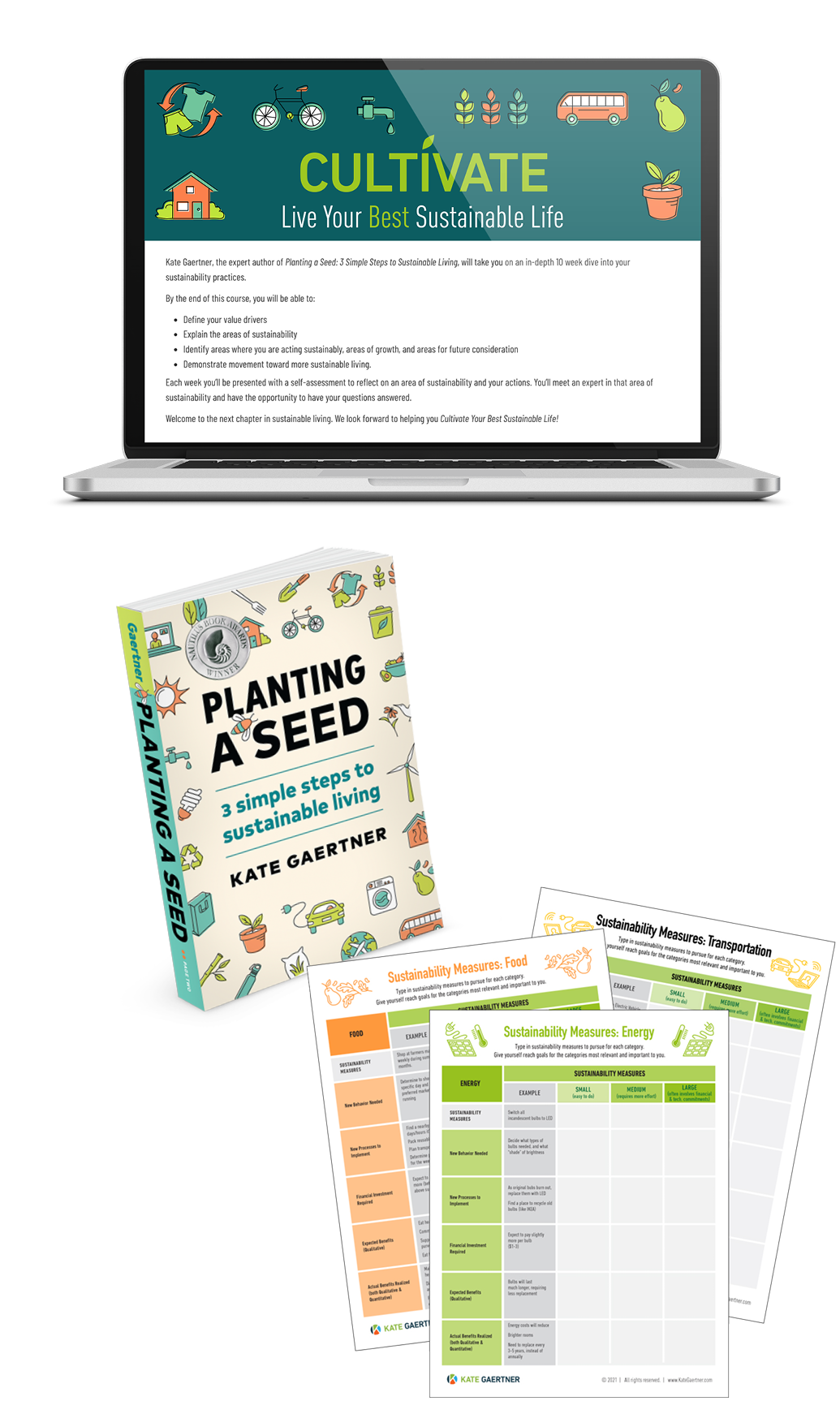 Who should take this course?
Do any of these descriptions resonate with you? This course was created for you!
You are a future-thinker and doer, who knows that sustainability is cutting-edge, innovative and cool.


You care deeply about the environment, its  healthy functioning, and all the species that depend on it.


You are experiencing eco-anxiety and feel trapped in a doom-loop that generates only negative thoughts, and not positive impacts to be made.


You are a sustainability practitioner who has a deep understanding of one area of expertise but want to expand your sustainability knowledge and impact to other areas.


You are interested in sustainability and want to gain a deeper knowledge of the system challenges we face and the concrete solutions that are available to support climate change mitigation.
You feel isolated and are seeking a like-minded community and broader support group of sustainability activists, thinkers, doers, professionals and proponents.


You want to understand what your personal 'realms of influence' are around living sustainably and what to prioritize and when.


You understand that the climate crisis is not solved by governments and businesses alone, but by individuals, family members, and communities, taking charge to live lighter and consume better.


You love learning but don't have the time, resources, or the life flexibility to go back to get a formal sustainability degree from a university, but are seeking a mini-Masters in sustainable living.
I'm the founder and CEO of the sustainability consultancy, TripleWin Advisory, where we help businesses develop circular business models and walk their own path of positive environmental and social change. 
In my past professional lives, I've held digital marketing management positions at XM Satellite Radio, Ziff Davis Media, and Time Inc. I founded a sustainable women's activewear lifestyle brand called OMALA. And I was an Adjunct Professor at the Fashion Institute of Technology in New York. 
I dabble in passion projects with other leaders I find inspiring. Some of those include serving as a Technical Advisor to the Loopt Foundation, a global nonprofit progressing zero waste goals within manufacturing, and a content board advisor for KWA Documentary Films on Oceans.   
I'm lucky to have regular opportunities to speak on corporate and personal sustainability topics. I've written opinion pieces for Real Leaders, Forbes, Fast Company, Industry Today, and GreenBiz, and I'm a frequent guest on John Tucker's Bloomberg Radio Small Business Report.  
I'm the author of Planting a Seed, 3 simple steps to sustainable living, which earned the 2022 Silver Nautilus Book Award and was voted one of the top 12 Global Sustainability Books to read in 2022. I'm also the recipient of the Global 50 Women in Sustainability 2022 Award from SustainabilityX Magazine.
I hold a Masters of Science in Sustainable Management from the University of Wisconsin, an MBA. from the Wharton School, and an AB from Dartmouth College. I also happen to be married to a wonderful human being and enjoy life with two great kids, all of whom call Portland, Oregon home.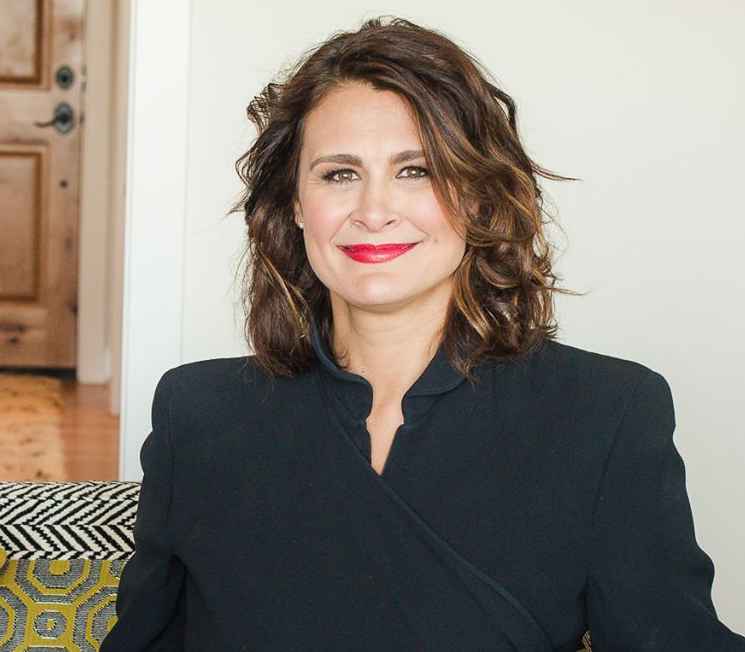 Kate Gaertner
Your personal guide for building a sustainable life
EXPECTED OUTCOMES FROM TAKING CULTIVATETM
Understand what you value and what drives your decision-making around sustainability actions to take

Gain a deep understanding of the eight realms of sustainable influence you can affect

Learn how to make successful behavior and lifestyle changes

Develop a personalized sustainability action plan for yourself and/or your family

Gain access to a like-minded and uplifting community of sustainability practitioners living all over the world

Understand how personal sustainability supports climate change mitigation

Develop a systems perspective on how sustainability and climate change are linked to human rights, social justice and public health

Become motivated to take sustainable action personally, with your family and in your community

Learn what the future looks like in transportation, energy, food, waste, in our homes and more

Receive a mini-Masters in personal sustainability that will be rewarding and motivating